Wir entwickeln Hochtemperaturbeschichtungsstoffe auf der Basis von Sonderkeramikwerkstoffen. Diese Stoffe werden wie Farbe aufgetragen und schützen den Untergrund vor Temperatureinwirkung und chemischem Angriff bei Temperaturen bis 2200°C.
Wir gewährleisten eine kontinuierliche Qualitätskontrolle und beliefern unsere Kunden mit Produkten von höchster Qualität. Unser Unternehmen ist nach der international anerkannten Norm ISO 9001 zertifiziert.
Unsere bekannten ALU-STOP Bornitrid-Schlichten finden Sie auf www.alu-stop.de.
We develop high temperature coatings, which contain advanced ceramic materials. These coatings can be applied like ordinary paints and are used at temperatures up to 2200°C.
We guarantee a continuous quality control and supply our customers with products of the highest quality. Our company is certified according to the internationally recognized standard ISO 9001.
Our famous ALU-STOP Boron-Nitride-Coatings can be found on www.alu-stop.com.
English version of this Web Site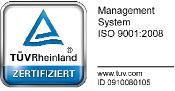 ---
© 2021 Büro für angewandte Mineralogie · Dr. Stephan Rudolph · D-47918 Tönisvorst
---
Vorstehende Angaben entsprechen den im Labor und Betrieb gemachten Erfahrungen. Sie können jedoch in Anbetracht der wechselnden Verhältnisse nur als Anhalt dienen und sind in diesem Sinne als unverbindlich anzusehen. Diese Produkte sind nur für den industriellen Bereich und vergleichbare Anwendungen (z. B. Forschung und Entwicklung) bestimmt. Die beim Umgang mit Chemikalien üblichen Vorsichtsmaßregeln sind zu berücksichtigen. Schutzrechte Dritter bitten wir zu beachten.